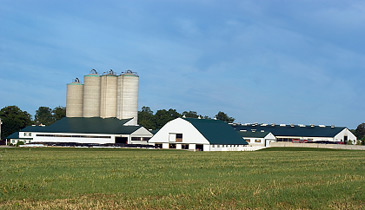 "The [Dairy Cheq® milk monitoring and reporting system] has helped us find numerous problems with our cleaning systems much quicker than we would have before… This system has been tremendously helpful to me because I can print off a graph or show them the data on the computer that proves that what I'm telling them is not working like it should be and it helps to better pinpoint exactly where the problem might be coming from."
Manager, Penn State University dairy facility.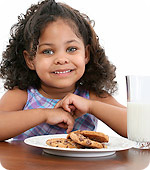 Dairy Cheq® MilkGuard & FD
The next generation in Dairy Cheq® MilkGuard products is available NOW.
The Dairy Cheq® MilkGuard FD is the most flexible Dairy Cheq® MilkGuard yet with improved the user interface and more features.
New in the Dairy Cheq® MilkGuard FD:
Larger Screen provides more detailed information to the dairy farmer when reviewing daily operating information or alarm information.
Wash History: Tank and Pipeline wash temperatures are now available for 30 days without using the Dairy Cheq® MilkGuard Software.
Enhanced Communication is now available using Bluetooth, WiFi, or GPRS modems
Each Dairy Cheq® MilkGuard FD comes with a set length of 50 feet/ 15 meters of wire, a tank sensor, a vacuum sensor, a pipeline sensor and one alarm light.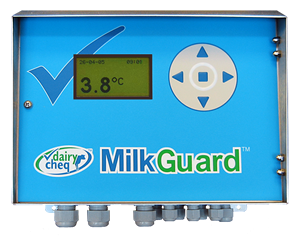 How does it work?
---
Low temperature for pipeline cleaning
This alarm occurred following a pipe cleaning that was not hot enough. The pipeline wash had a maximum temperature of 39.2°C (103°F). The target wash temperature of 40°C (104°F) for 4 minutes was not met, so the alarm occurred.
Possible Causes of the Low Temperature Pipecleaning Alarm may be:
Water heater is starting to fail
Pipe wash not started
Wash valves not in proper position
Pre cooler still running during the wash
Plugged screen in wash circulation loop
Not enough water volume to maintain temperature
Mixing valve adding cold water during hot cycle
Faulty check valve
Milk Too Warm
If the milk is not cooled within the required time (or regional requirement), then a "Regulatory" or rule-based condition has been breached.
The Dairy Cheq® MilkGuard FD will give the dairy farmer a warning 10 minutes after milking if cooling is not sufficient to meet the regulation. If the milk is not cooled to below 5°C (Canada) or 45°F (US) quickly enough, then a "Regulatory" alarm will occur.
Possible Causes of the Slow Cooling Alarm may be:
Not enough cooling capacity
Failed compressor
Cooling efficiency is gradually degrading
Radiator needs to be cleaned
Leak in freon line
Thermostat has failed
Thermostat is not set to proper temperature
Switch on Cooler
If the milk cooling equipment is not turned on for the first milking, an alarm will occur.
The Dairy Cheq® MilkGuard FD looks for a temperature drop to detect cooling.
Possible Causes of the Switch on Cooler warning may be:
Forgot to switch on cooler
Failed compressor
Freon leak in cooling lines